10-Hour Cosmetologist License Renewal — Continuing Education
For Cosmetologists, Nail Technicians and Specialists
Looking to meet your cosmetology license renewal requirement? We offer continuing education to help you get your licensed renewed fast, before your deadline. This 100% online cosmetology class is for licensed cosmetologists and specialists in the state of Florida who need to meet their 10-hour continuing education requirement.
Course Benefits:
100% Online
No Final Exam
Florida Board of Cosmetology Approved
No Membership Required — Just sign-up, finish the course material and we will report your completion to the state for you.
Downloadable certificate for your records.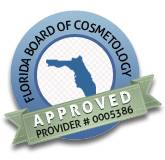 Brought to you by: